Kawasaki MULE, the workhorse of choice.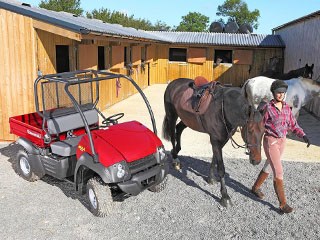 A nation of horse lovers, the myriad of paddocks, equestrian facilities and loose boxes across the UK are of varying size, but all need some basic essential elements. Most notably, the movement of straw and hay for feed and bedding are a daily chore.
Added, of course, is the routine need to muck out the stables and transport the manure away in the most efficient manner possible. At its very lowest level a simple wheelbarrow and hand tools are all that is required, but only a few animals are enough for many to seek a mechanical working partner to try and reduce the long hours at the stables.
"Buyers chose the two wheel drive MULE 600 for a variety of reasons", explains Simon Riches, Utility Product Manager for Kawasaki Motors UK. "Chiefly it comes down to two major factors though, ease of use and the ability to save time.
With a tipping load bed at hip to shoulder height, the transfer of loads can be safe, quick and simple. Additionally, the small physical size of the MULE 600, and the fact that it is so quite in operation, makes reversing up to loose boxes easy and results in happy, well fed, and well bedded horses.
For all the joy that horses deliver, their welfare can be very hard on the back, legs and shoulders and extremely repetitive. At least for MULE 600 owners there is a high degree of physical relief and, especially for women users, the manoeuvrable little MULE is like having several extra pairs of willing, uncomplaining hands around the yard."
Return to the previous page