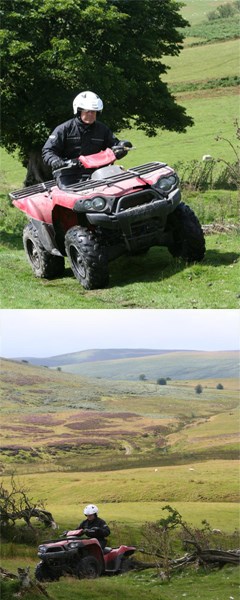 "Fail to prepare and prepare to fail", goes the old saying and it certainly has more than a grain of truth according to Kawasaki Motors UK's Utility Product Manager, Simon Riches.
"It's tempting to put off what seems like less than urgent tasks, such as checking over an ATV for signs of general wear and tear, before the really harsh weather sets in. For one, I would far rather see if a rubber gaiter on the steering has been torn or damaged in the sunshine than in driving rain!"
Riches has a point, but the need to keep a weather eye on all farming kit makes sound economic sense too as he has observed many times on his countrywide visits to the vast Kawasaki MULE and ATV specialist dealer network.
"I reckon' our ATV's are among the most rugged and durable on the market, but even our skilled dealers can't perform miracles if a vehicle has been neglected either by mistake or on purpose. With many offering a collection and delivery service and even some with loan machines seasonal or routine servicing is not something that should be overlooked and could add up to big savings in the long run".
Understanding the need for 24/7 working in the commercial sector, most ATV dealers have a good stock of parts to hand and an impressive warehouse next day supply from Kawasaki according to Riches.
"Just as an example, we currently have thousands of air and oil filters in stock for 24 hour delivery to dealers and even items that are in much less demand can be shipped direct to dealerships the next day if ordered before 13.00 the day before."
The message from Kawasaki is clear, hope for clement weather but plan to avoid a winter of discontent as Simon Riches concludes. "Understandably, an ATV is now an essential piece of kit for many farming users, the longer it is out of action, the more less suitable kit is pressed into action and, sad to say, the greater the bill may be for spare parts and labour.
With planned maintenance and a pre-winter service booked in the near future  we hope Kawasaki ATV owners continue to enjoy a reliable, durable product that will continue to reward them with years and years of profitable hard work."